This week has flown by! I'm pretty sure if I hadn't had to write this post I would have forgotten all of it.
Here's what's happening these days…
watching: Charlie and Poppy interact more and more. Charlie, while always kind to his little sister, has always been pretty cautious and hands-off with her. I feel like this week he has finally started to feel a little more comfortable with her, as evidenced by these pictures of the two of them next to each other. Those have been really hard to get up until this week.
making: my favorite spread yet in my Project Life album. Be looking for a post about that in the coming weeks!
cheering: for the racers in the soap box derby. Last weekend our town had it's first coaster car race on main street and we walked down to see the action. It was a lovely spring day and a fun little outing. Charlie was a bit disappointed that he couldn't ride in the cars though…
growing: grass in a tiny pot. We got one of those grass growing kits at Target last week and have been watching the little shoots of grass pop up all week. I'm impressed at how fast it's grown!
loving: how alert and interactive our little girl is getting. Smiles are coming all the time these days, and she's always trying to add to the conversation with her coos and gurgles and grunts. She can get pretty noisy!
I hope you all have a lovely weekend!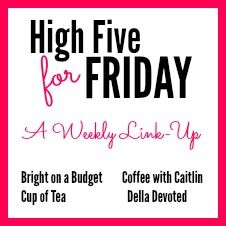 ---
P.S. Here are some posts from the archives that you may have missed:
1. Parmesan Tilapia – one of our favorite quick and easy weeknight dinners
2. The one where I finally finish up our gallery wall
3. Some good reasons to consider cloth diapering