Happy Friday! We've spent the week stuck in the house due to a big winter storm in our area. It's been cozy and lazy and all the things a snow day should be, but it's lasted all week and we're starting to get a little stir crazy. We've had some good times though. Here are the highlights from these days.
playing: with cornstarch. It turns out a simple mixture of cornstarch and water makes a crazy feeling concoction. If you squeeze it or poke it fast it feels solid, but if you let it run through your fingers or poke it slowly it's like a liquid. It's because of science, I'm sure. We ended up adding a bit too much water to our mixture, and Charlie wasn't so sure about sticking his hands in it. But he enjoyed stirring and scooping it with a spoon, and then we added some food coloring to swirl around. It was pretty for a few seconds. Then I remembered that I should never give a child three primary colors. It always turns brown. Oh well.
shoveling: lots of snow! We got a foot of snow and arctic temperatures this week. So some shoveling was necessary. This snow isn't going anywhere anytime soon. Charlie got to play in it one day this week, but every other day has been too cold. I'm hoping it will warm up a bit in the next few days so we can get out in it again. Snow like this hasn't happened around here since I was a kid!
loving: the first real smiles from my girl! I discovered she likes to be thrown in the air. I have a feeling I'll be doing a lot of throwing if it means more smiles. They're the best!
baking: monkey bread. Charlie loved our time making banana bread so much that we had to do it again. We had a little monkey bread baking mix stuck in the back of our pantry that we finally got out and made use of. Charlie's getting pretty good at stirring. I think next we'll need to work on his pouring.
finishing: All the Light We Cannot See, my first pick for the 2015 Reading Challenge. It was very good. I'm working on writing a review to share with you in a few weeks, but I'm finding I'm pretty awful at writing book reviews. I'll keep working on it…
So that was our week. I hope you all are staying warm!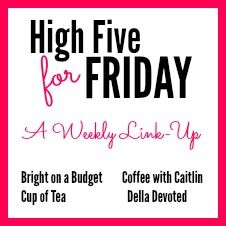 Once again I'm linking up at Coffee with Caitlin for another High Five for Friday post. Check out some other bloggers over there!