These days we are:
listening: to Cool Family Radio on iTunes radio. It's a station that plays a good mix of oldies and more contemporary music with generally upbeat tempos and no foul language or overly explicit sexual references. So basically, music for grown ups that's safe for kids. We find it's a good thing to turn on when a toddler needs to dance a little energy out and a mama needs to bounce a baby. And the title makes me feel cool. Like I could hang out with some college students and mention some music I had been listening to lately and not feel like a total dweeb. So that's a plus. (Wait, did I just forfeit my cool status by using the word dweeb?)
eating: from a bottle! Not me, my baby. We tried out a bottle on Penelope for the first time this week and she took to it like a pro. This means Mama can get out of the house without a baby every once in a while. I used my first moments of freedom to go grocery shopping, which isn't really an exciting way to spend the first moments of freedom in six weeks. Oh well.
writing: a newsletter. Not me, my husband. Chris is starting out a new creative pursuit in which he will share snipits of life and interesting bits of the internet in a weekly email newsletter. It's a good read! You can become a subscriber here.
celebrating: Valentine's day early with the purchase of assorted chocolate boxes. Chris and I don't give each other gifts for Valentine's day. It's mutual agreement we came to several years ago in the interest of saving us both from the stress of being really thoughtful and on top of it. Instead, we usually just plan on having a nice dinner together sometime around the holiday. Since we aren't sure when we'll be getting out for a date night this year what with the new baby and all, we've been celebrating by splurging on fancy chocolates. I'm not complaining.
My new coworkers
trading: my working mom title to that of "stay at home mom." We've been blessed with the opportunity for me to stay at home with my kiddos, so this past week I officially put in my notice and said goodbye to the job I've had for the past 5 years. It's a bittersweet sort of thing. I'm thrilled to be able to stay at home and focus my energy on my kids. It's the arrangement we've been hoping for since Charlie was born. But at the same time I can't help but acknowledge that I had a pretty great job. I'm going to miss the daily interaction with some of the best coworkers ever and the time I got each day to sit in the quiet and do what was usually pretty creative work. We're now in a period of adjustment as we try to establish a new routine and set realistic expectations for the days. I'm excited about what the next few months will bring as we settle into our new normal. Crafts? Play dates? More blog posts? Who knows!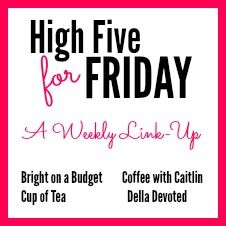 Once again I'm linking up at Coffee with Caitlin for another High Five for Friday post. Check out some other bloggers over there!.